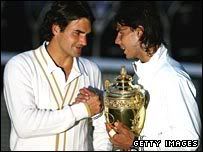 Sunday turned out to be much more epic than I envisioned. The plan was to to get up early, watch the British F1 GP, and tune into the tennis match after the race. I had set my pvr to record the race in case I slept in, which I did. So I got up at 9 and thought: "Ok, well the race lasts until 10 and Wimbledon is starting right now, so I might as well watch the tennis match and then watch the race".
Now keep in mind I haven't "planned" to watch a tennis match in a long, long time. I just had a feeling something special was going to happen, especially considering how much of beat-down Nadal had put on Federer in Paris. I started watching the tennis match, fearing McEnroe would say something like "A great day for the British, as Jensen Button won the F1 race this afternoon in this country and now they get to watch a great tennis match." Turns out McEnroe held his tongue, or doesn't care about any other sport (probably the latter).
The tennis match was the best I've ever seen in my life. It beat DanielNestor vs. Stefan Edberg, Michael Chang v. Edberg at the 89 French, and those Jimmy Connors matches at the US Open when he put on that run in the twilight of his career. The quality of play from both players was unbelievable. The shots they made 3 and 4 and 5 times per rally made me shake my head. Nadal especially, he makes shots that you swear when they come off Federer's racket are winners, but Nadal tracks them down and makes head-scratching returns. And then Federer recovers to play a master shot, only to be countered, etc...Again, I had never seen anything like it.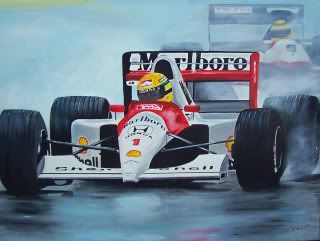 What was kinda fun for me was the rain delays. Every time they covered the grass I'd switch to the race, one that was filled with incidents and one of the best driving performances I have ever seen. I know it's tempting to use the "BEST "X" EVAR" cliché, but for me I think I'm being honest. At least it felt like it. Lewis Hamilton put on a clinic on how to drive in the rain. At certain points he was lapping 5 and 6 seconds faster than anyone on the track, on the SAME TIRE COMPOUND. For those of you who don't follow F1, five or six seconds a lap is unfathomable. The announcers kept saying "we keep on getting letters from fans asking what is so special about Lewis Hamilton...well here it is". The only thing similar I can remember was Ayrton Senna at the Brazilian GP in the early nineties where he raced like nothing was wrong, only there was torrential rain beating down on Interlagos while Prost and the rest of the grid kept spinning and splashing all over the place.
Switching back to Wimbledon, it was amazing to watch a match that felt like it could go on forever (there is no 5th set tiebreaker at Wimbledon..you keep playing until someone gets two games ahead). Darkness encroaching (no lights either), both players holding serve like their lives depended on it. Finally, on his 4th match point, Nadal put the match away, winning the final set 9-7. I'm happy they got it done before it got too dark or I would have missed it Monday morning. It was awesome to watch the trophy ceremony in the dark. Totally surreal. The only way the week could have been better for the Spanish would have been for Alonso to win the British GP, but we all know that's not going to happen anytime soon (but hey, at least he's the number one driver on his team)!
Anyway, it was great enough for me to feel compelled to write you all about it.
Can't wait til the US Open and German GP!