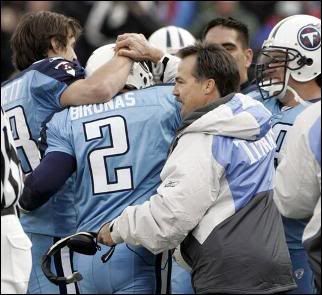 I'm ready to say it out loud: parity sucks. Upsets shouldn't be commonplace - that's what makes them special. So far this season, underdogs have a winning record against the spread. That's madness. I miss the days of being able to count on the Cowboys, Niners and Redskins to win games in the NFC and Dolphins, Bills and Broncos winning in the AFC. Back in the nineties, when those teams lost, it meant something. Was anyone really shocked that the Colts got beat by the Titans, or that the Bills came close to beating the Chargers yesterday?
Don't get me wrong: a certain balance has to be struck. I'm not looking for a baseball-type system where 10 teams have absolutely no chance of winning, year-in, year-out (on the other hand, there hasn't been a repeat winner of the World Series since the Yankees three-peat of 1998-2000, so I don't know). However, the current NFL landscape could use a couple of powerhouses. Only New England qualifies right now, and they're waning (as the mighty Dolphins grow in strength with every passing week!). It's a tricky equation: you want everyone to feel they have a chance at the beginning of the season, but you also want to feel like there are sure bets. As my buddy Jason says:
"How the hell do the Titans beat the Colts and those same Colts humble the Pats and those same Pats beat the Bears despite the 5 turnovers and the Bears are the BEST team in the NFC? God help me..."
I guess that's why I like the FIFA World Cup so much. Every four years, you know that Brazil, Germany, Italy and France are the teams to beat. You've got a second tier of teams that are always dangerous like the Dutch, England and Argentina. Meanwhile, you know there's going to be a dark horse that everyone's going to love and ride until they get bounced, like South Korea in 2002 or Croatia in 1998.
In this case I offer a problem and no solution, because frankly I don't think there's an easy fix. The salary cap is blamed in most circles for the current parity, since low-profile but high-impact players like offensive linemen move around from team to team as the Peyton Mannings and Ray Lewis' of the world get paid big money to stay. The axles and ball bearings of the NFL don't get nearly enough credit – it's the spoilers and rims that bring in the sponsorship money! It's also these non-glamourous position players that are the key to dynasties. Without Leon Lett and Larry Brown, Troy Aikman and especially Emmitt Smith are not Hall of Famers.
Perhaps the solution lies in allowing teams two or three superstar allotments, where they can pay those three players as much as they want, leaving the salary cap for the bricks and mortar of the team. Player movement would go down in most cases, and fans would see some continuity return to their teams. The MLS is about to start the experiment, and maybe the NFL is watching closely to see how it plays out.
I had to work this weekend, and at first I wasn't too upset about it because looking ahead to the games from Sunday there didn't seem to be many exciting matchups. Sure, I held a sliver of hope that Vince Young would take it to Peyton's Colts, and my fantasy monsters were in action (Brady and LaDainian), but I didn't expect fireworks from K.C. v. Cleveland or a fourth quarter comeback from the Patriots against the Lions.
Gratefully, Football Night in America has been top notch in its inaugural season (so much so that I think they deserve a full banner plug), so I got to see extended highlights for most games. How 'bout that Rob Bironas! And what's with 60+ yard field goals to win games this year? Eagles fans will surely remember Matt Bryant's 62 yarder to win the game for the Bucs (sorry Ital-Dean). Dick Pound, take note!

What I was really looking forward to were the games, more specifically my Dolphins testing their new-found legs on the Jaguars and the only matchup in the NFC that mattered, Cowboys v. Giants. I won't dwell too much on the Dolphins game, only to say that my kiss of death reared its ugly head once more: the moment I endorse The Joey he forgets to make good decisions (just ask Gérard Gallant about my kiss of death. Word is he seeks my address to thank me). It must also be said that the Mammals had the misfortune of running into the "good" Jaguars. Final word on the Dolphins to, once again, my buddy Jason who was on fire with his Sunday post-mortem:
"God bless your Dolphins they sure do try hard once they are 5 games under .500. They are like the Toronto Blue Jays of the NFL. They always make you think they are one year away."
Great. I'm a fan of both.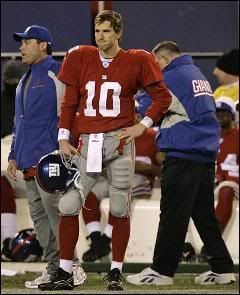 Cowboys-Giants was everything it was billed to be. Eli had a slightly better day than Romo statistically, but did it really feel that way? The Cowboys are on a list of two teams I refuse to cheer for, along with the Buffalo Bills. This immutable law's only exception extends to individuals, and one of these individuals is Eli Manning. Manning 10's place in my heart was sealed when he refused to play for San Diego not because he was from New York (he isn't), not because the Giants were a much better team than the Chargers (they weren't), but because playing for the Chargers would cap his endorsement opportunities. As far as I'm concerned, any failure he suffers on the football field can be traced to the Football Gods exacting revenge. If he ever wins a championship I will scream then jump off a bridge, because it would be proof that there really isn't any justice in the world. On top of that, it's saying something that I would cheer for a team with Terrell Owens on it than Eli Manning – that is a deep dislike. You can therefore imagine my glee when Tony Romo answered Manning 10's game-tying touchdown pass by rolling left, throwing across his body and connecting with Jason Witten for a 42 yard gain that put the Cowboys in field goal range with a minute left. The only thing missing was a Grammatica pirouette, but I guess he was too busy being carried off the field by his teammates to indulge me.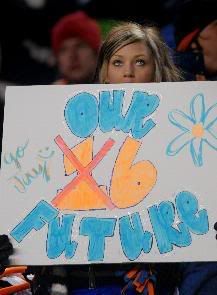 Clunk (soundtrack to the beginning of the Jay Cutler Era). The Sunday night game also had some game-ending drama in a tilt that was otherwise devoid of any fireworks. You get the feeling that the Broncos had the wind sucked out of them after Al Wilson was carried off the field on a stretcher. Jay Cutler came out looking as nervous as a rookie making his debut at home at Mile High Stadium after 12 weeks of the hometown fans and media pining for the end of the walking disaster that is Jake Plummer. Poor kid. He'll be fine, but he won't see the playoffs this year.
Tonight's game features the Carolina Panthers against the Philadelphia Eagles. Fire up the Xbox!