That's what Wednesday's announcement that Greg Zaun was returning to the Jays amounted to, but I'm sure if we could get deep into J.P. Ricciardi's mind we'd find something more akin to "oh how close I came to getting burned".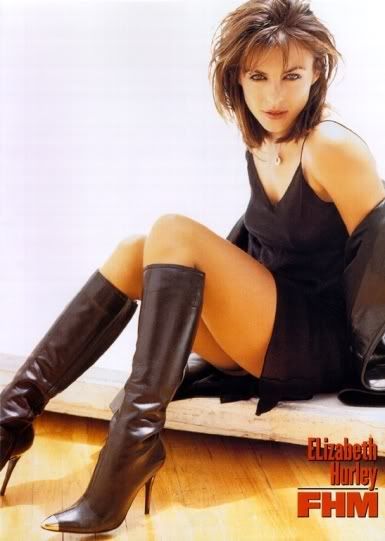 J.P. played a dangerous love triangle between himself, Zaun and Rod Barajas. All indications early this week were that the Jays were ditching Zaun in favour of Rod Barajas, whose hitting prowess is more Nelson Santovenia than Joe Mauer. Then, on the eve of Barajas' physical with the Jays he fired his agent over his unhappiness with the deal's financials. That left J.P. having to crawl back to his scorned lover. Thankfully, Zaun has more compassion than Elizabeth Hurley (name-dropping for a great excuse to post a Hurley pic!), and welcomed J.P. with a tearful "Shut up. You had me at 6 million".
All in all it's good news for the Jays. They get to keep a solid catcher who is well-liked by his pitching staff and can put up above average numbers for a catcher. Whether he can stay healthy over the course of a full season remains to be seen, but that's why they kept Jason Phillips around, isn't it?
For now, here's the Blue Jays line-up card if I were manager:
1. Reed Johnson LF
2. Aaron Hill SS
3. Vernon Wells CF
4. Frank Thomas DH
5. Troy Glaus 3B
6. Lyle Overbay 1B
7. Alexis Rios RF
8. Greg Zaun C
9. ?????? 2B
Rotation:
Doc
Burnett
Stavo
???
???
So we still need a second baseman and some pitching. Let's hope Adam Lind has a killer training camp and that J.P. isn't done acquiring talent.