Rex Grossman is standing in
Chicago
's way to a Super Bowl. Although Trent Dilfer and Brad Johnson proved to everyone that you don't need a superstar quarterback to win the Big One, Rex Grossman doesn't fall within this category. Those two guys were great examples of quarterbacks that won't lose you a game. They just go out there, find the safe outlet, keep turnovers to a minimum and let the running game or defence be the star. Rex believes in his abilities just a little too much to join their ranks. He's got ability, but he can't make all the throws he thinks he can, which often end up in defenders' hands.
It just isn't acceptable to have as bad a game as he did in Chicago's loss to New England, a game many Bears players had labelled their most important to date this season. Not only was he picked three times (by Asante Samuel), but how bad he looked doing it. Tom Brady was picked twice, but both were off deflections from his receivers. You only have to look at Rex's body of work over the past 6 games to see that he's not making life easy for his team. He's turned the ball over 16 times in that span. He's got a 56% completion rate for the season.
The tricky thing with Grossman is that he's shown moments of sheer brilliance, sometimes for an entire game. I remember a young Brett Favre giving Mike Holmgren headaches in the early going. Turned out great for Favre, but I don't think Rex has the tools to be the next #4. Like I said, he believes in himself just a little too much. If he can learn to play it safe and within his abilities, he'll be fine. For the moment he remains the biggest road block in the Chicago Bears' road to the Super Bowl.
Romo-mentum? As if to add credence to the notion that the NFL is as unpredictable a sport as they come, and that the quarterbacking position is for the most part a crap-shoot, Tony Romo comes out of nowhere to become the league's newest star. This a guy who was signed to an NFL roster after Quincy Carter got busted with cocaine and was subsequently released by the Cowboys. Three years later, Antonio Ramiro Romo is shredding really good defences and making fantasy owners who took a flyer on him look real good. I really think this guy is the real deal. I've watched his last couple of games and he makes throws that ooze confidence. He puts the ball exactly where it needs to be while looking composed and in charge. You can see the other players reacting to him – a stark contrast from doe-eyed Drew Bledsoe. Tony Romo, Philip Rivers, Matt Leinart, Vince Young: the future of the QB position looks bright!
In 1992, in a playoff game against the San Diego Chargers, Dolphins tight end Keith Jackson caught a pass from Dan Marino, turned, and found about 20 yards of open field before him. As he rumbled through a couple of Charger tackles he came to a stop, still standing. That's when I saw the most bizarre call of my young life: Jackson hurled the ball another 10 yards up field where it was recovered by a Charger. After a conference with the officials (and my memory is murky here), they awarded the ball to the Dolphins at the spot where Jackson was tackled, minus five yards for an illegal forward pass. The Chargers went ballistic, claiming they had recovered a fumble. Even the announcers couldn't believe it, and I was grinning like a Cheshire cat.
I was reminded of that play when San Diego rookie receiver Vincent Jackson caught a ball on Sunday, got up without being touched down and spun the ball forward in celebration, only to have it recovered by the Raiders defence. Just like 14 years earlier, the officials correctly gave the ball back to the Chargers, minus the five yards for an illegal forward pass. The Raiders went nuts and have been crying foul all week. Someone should give them the tape of that Dolphins game.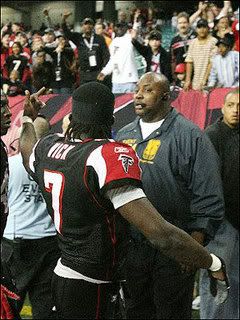 Well, so much for my Falcon-as-Super-Bowl-Champions prediction. I can take some solace in New England being on track and a sure-fire contender for the title. At this point, here are the teams I think have a shot to win it all (in no particular order): New England, Dallas, Indy, San Diego and Baltimore. In case you're keeping score, that's four AFC teams versus one NFC team. I really don't see anyone from the blue conference beating Dallas at this point. Take that with a grain of salt, however, since my predictions almost never come true. They're still amusing to make and give my friends a chance to criticize my otherwise flawless observations (smirk).
Giants-Titans saw a bizarre turn of events in the Oversized Mythological Figures Bowl. I feel kind of sorry for rookie defensive end Mathias Kiwanuka, who let Vince Young go instead of slamming him into the ground for the sack. Although it's inexcusable to stop playing before the whistle is blown, you have to show a modicum of sympathy for the guys whose job it is to go after the quarterback. You can't hit them high, you can't hit them low, you can't push them to the ground the nanosecond after they've released the ball and you can't tackle them if they're going into a slide. I know we need to protect the quarterbacks against these 350 pound monsters, but it borders on the ridiculous most of the time and I have no doubt that Kiwanuka had that at the back of his mind when he let Vince go. Despite everything I've said, though, it doesn't forgive that he let go before he heard a whistle. His non-tackle gave Eli the opportunity he was waiting for to blow the game. Nicely done Eli. Come to think of it (apologies to my buddy Jason), Eli and Rex are one and the same: brilliant on some plays, putrid decision-making on others.
My MVP for the year is LaDainian Tomlinson. This guy is going to obliterate Shaun Alexander's record for rushing touchdowns in a season, so forget about all the other guys. Let me explain again using different words: he is going to have the best season of any running back in history. If he doesn't win, I give up. Drew Brees is having a great season. So are Peyton Manning, Brian Urlacher, Tom Brady and Frank Gore. Let's keep things in perspective, though. BEST SEASON EVAH!
Things I'm looking for in Week 13:
Baltimore ending Cincinnati's playoff aspirations

Miami doing the same to Jacksonville
Romo-mentum
The Jay Cutler Era (another post-Elway flop. I feel for you Bronco fans, we're still in the post-Marino era in Miami)
Vince Young v. Peyton Manning (and I'm dead serious)
Wishing MNF had the same flex schedule as SNF (Panthers at Eagles? Gag.)
40 more fantasy points from LaDainian, ho-hum (how do you like Michael Vick now, bitches?)