- Nothing drives me higher up the wall than media hacks that try to create the news, which is exactly what some reporters are trying to accomplish with all this Alfie trade-talk. Alfie is the icon of this franchise, and should retire a Senator. I know that may sound a little idealistic considering the current sports climate, but if Stevie Y can do it, so can Alfie. Remember, trade rumours swirled constantly around Yzerman just before the Red Wings went on a run of league domination, both regular season and playoffs.
- I'm going to Buffalo this weekend to see my first meaningful NFL game (although dubbing a Packers-Bills game "meaningful" might be a stretch). When I was a kid (10 years old?), I saw an American Bowl game at the Big O between the New England Patriots and the Pittsburgh Steelers. The only thing I remember is that we were seated far from the action and that Bubby Brister was the Steelers QB. I'm also a little worried: I don't consider Buffalo a vacation destination - by showing up we'll remind them what people with real teeth look like. But you know, I feel a little bit Bono-esque with this voyage: it's important to visit third world countries and remind yourself just how lucky you are. Who knows, maybe I'll adopt a child from Cheektowaga (save the hate mail, Buffalo peeps. I'm a Dolphins fan, it's my duty to rag on your city). I'm going to try and provide a travelogue upon my return, but I'm not sure if I can pull it off. Stay tuned…
- Congratulations to Vernon Wells on winning his third consecutive Gold Glove award. Hopefully he is sincere when he talks of signing a new contract with the Blue Jays. I'd hate to see anyone else patrol centre field for the Jays.
- NHL television ratings are down a little bit (9%), and this has given a kind of liquid courage to those who love to criticize the clampdown on interference and stick-related fouls. First of all, the ratings are down and this was expected: when you come back from missing an entire season of hockey, people are naturally going to watch more because they missed the product. Expecting to maintain those numbers was never plausible. Secondly, consider the whiners and their agenda:

1. Bill Waters: The clampdown has seriously affected his beloved Maple Leafs. Theirs was a team cynically built in the "old" NHL to slow down the opposition through clutching and grabbing. The rules have hurt the teams that have been unable to adapt, like the Leafs and the Flyers. Smarter GM's have evolved with the times, like Lou Lamoriello in New Jersey.
2. Nick Kypreos: Try and follow the logic: the salary cap has created higher player turnaround, so the players don't know their teammates as well, so they are forced to clutch and grab, which increases penalties, therefore the clampdown is hurting the NHL. That pretty much sums up this guy's thinking. Kypreos and Glenn Healy whine and moan constantly – they are the player's mouthpieces on network television. It's no surprise he's constantly bashing the salary cap. He will obviously reach for any argument, sane or not, to illustrate the evils of a system that prevents teams from giving the Bobby Holik's of the world $10 million per season.
3. Don Cherry & Ron McLean: Yes, it has reached the point where I lump them in together. Cherry has finally broken McLean down. These two have a lofty perch from which to sermonize, and unfortunately they use it irresponsibly, such as when McLean endlessly criticizes referees. It isn't too difficult to imagine where Cherry is coming from in his hate of the new enforcement of the old rules. Cherry is a macho man's man who will stop at nothing to see a return to the 70's style of brawling hockey. Sad (as in pathetic) thing is, he'll never live to see it. He's simply a bitter old curmudgeon at this point, and his ramblings constantly border on senility. Agree with him at your own peril.

Furthermore, if you look into the numbers a little deeper, there is good news. The demographic every advertiser lusts after, 18 to 34 year old males, is showing an astounding 40 per cent increase in NHL viewership. Ergo, the next generation loves the "new" NHL, and the rules changes are here to stay (if we can trust the governors to use sound judgment – never a gimme).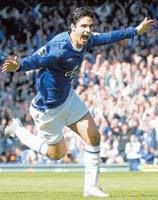 - Everton are making a case that they belong near the top of the Premiership table. Their draw at Arsenal on Saturday was an eye-opener, and the hope is that they can finish in the top four in order to earn a Champions League berth. I just picked up FIFA 07 for the 360 this week, and have played until my thumbs hurt. There's nothing like video games to build an intimate knowledge of the players on your favourite teams, especially with the accuracy EA Sports pours in to individual attributes. In soccer that is especially true, as watching Everton play on TV doesn't give you nearly the amount of depth that playing them with FIFA provides. Joseph Yobo and Arteta have never looked so good. Many of you have vowed to follow soccer more closely after last summer's World Cup: there's no better way to get attached to a club than through the FIFA series.