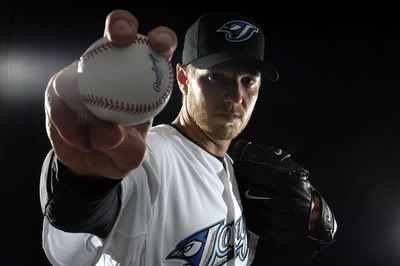 Twenty games in 20 days. That's what's staring the Blue Jays straight in the face right now. The opponents for these games will be; Texas Rangers, Chicago White Sox, Kansas City Royals, Baltimore Orioles, Cleveland Indians, Anaheim Angels of Los Angeles in California of Earth in the Milky Way and the Oakland Athletics. Before the season started, you could have said with confidence that the Jays were better than the Rangers, Royals, Orioles and maybe the A's. The way they've played early on, the Jays could win every series. Surely they won't as the law of averages must catch up to them some time. But as commenter
Jeremy
at
Batter's Box
puts it:
A 10-10 split would put them at 20-14, a .588 percentage.  Roughly a 95 win pace.
Then again if they go .500 the rest of the way they'll finish 6 games in the black, but that's no way of looking at the future. No, my rose-tinted glasses will remain firmly in place and I'll predict 14 wins out of the 20, putting them 24-10 for the season on May 11th. 
It all starts tonight with the Jays hosting the 5-7 Texas Rangers. The Good Doctor takes to the mound for the Bluebirds, while Brandon McCarthy gets the nod for the Rangers. Halladay should be careful around Hank Blaylock: the third baseman is 11-for-33 career-wise against him. 
8 hours to game time and I'm already giddy. This has to stop sometime, right? It's the first time in my life that I watch the first 14 games of the season. Can I pull a
DiMaggio
? Probably not. Real life is sure to interfere at some point. Does it count if I watch condensed games on MLB.tv? Nah, I didn't think so either.