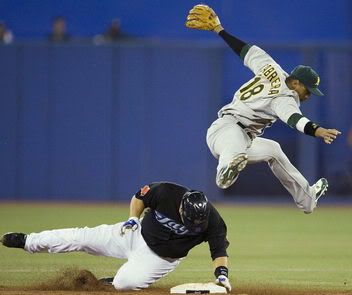 Ah, so this is what fingers to keyboard feel like...I had forgotten! Taking a week and a half off has not been kind to my blogging schedule, but alas here I am with another edition of The Twit.
- I've obviously got to start with the red-hot Blue Jays. While my video game counterpart isn't doing all that well in MLB '09: The Show (current record: 3-9), the real life Jays are tearing up the junior circuit. They're doing it with an incredible display of early season hitting, combined with young arms complementing the old doctor very well. It's very rare for baseball teams to fire on all cylinders at once, though, as evidenced by Alex Rios and B.J. Ryan. But hell, I'm not going to dwell on that. Aaron Hill, Adam Lind, Marco Scutaro, Scott Rolen, Lyle Overbay et al. are fanning the flames of love in my heart. Haters will argue that it's a long season and a hot April doesn't mean much, but they're just jealous: when it comes right down to it the team you follow will either start the season well or it won't - no need to wonder what every person prefers.
- The Stanley Cup Playoffs are underway, and I'm casually interested. It's a fun tournament and I am a hockey fan (although as I've stated before I won't be writing about it much because the last thing we need is another Canadian writing a half-assed hockey blog). When your team isn't in the tournament, though, it becomes quite the test of endurance to watch hockey every night for 2 months. I'll watch the Jays instead, thank you very much. From what I have seen, however, the Bruins, Canucks and Blackhawks look real good. I'm still hoping the Capitals will squeeze their way past the Rangers because Alexander Ovechkin is the most exciting entity to watch on skates at the moment.
- When I woke up yesterday morning to watch my PVR'd Chinese Grand Prix and the first shots showed rain, I was excited. An F1 race in the rain is almost always an exciting time. I thought they coddled the drivers a little too much at first by having them start the race behind the safety car for the first 15 minutes. That was all forgotten once they got to racing. Sebastian Vettel was full value for the win, Red Bull
Racing's first (Mark Webber finished second, also making this the first Red Bull one-two finish). Felipe Massa once again finished out of the points after his car died while the race was under caution: very embarassing for Ferrari. Brawn Racing was strong once again, finishing third and fourth. As an aside for those of you who follow F1 through this blog, the front defuser utilized by Brawn Racing was found to be legal by the court of arbitatrion last week. They therefore retain all their points and the rest of the grid can scramble to come up with their own variations of the Brawn Diffuser.
That's all I've got for now, but expect more posts soon!