Doom and gloom abounds when sifting through the piles of MLB previews and predictions concerning your 2009 Toronto Blue Jays. The obvious steps backwards taken by the franchise are easy to point out: losing A.J. Burnett, Shaun Marcum out for the year, Dustin McGowan doubtful in his ability contribute this year, two rookies in the starting rotation, no free agent activity to speak of...yup, that's the easy part.
The front office has announced that they're working towards contending - in 2010. The media has done a bang-up job of toeing the company line, predicting a dire 2009 season. Most outlets predict a finish no better than 4th place in the American League East. With the Rays, Yankees, Red Sox and Orioles rounding out the division, I can see the logic in that.
So with no expectations and such dire predictions to live up to, where are we really?
Pitching:
Ladies and gentlemen, your 2009 Blue Jays starting rotation:
1. Roy Halladay
2. David Purcey
3. Jesse Litsch
4. Ricky Romero
5. Scott Richmond
Although this does seem like the Jays are going into the season light on arms, it's not all that bad according to
Batter's Box
. Reading his post really lifted my spirits concerning this starting grid, and if things work out with just one of the youngsters, the Jays shouldn't be too far off of what they were in 2008.
The bullpen poses a lot of questions, mind you. Jeremy Accardo was just sent down to the minors and B.J. Ryan hasn't been able to hit any higher than 87 m.p.h. on the radar gun in Florida. Cito has actually begun musing about using Scott Downs in the closer role. Brandon League has had a fantastic Spring and Casey Janssen should be back to 100% after suffering through injuries. Jason Frasor is what he is, and the rest of the cast should be shuttling back and forth between Toronto and Las Vegas.
I get the feeling that watching the Jays pitch this summer will be anything but dull. How Brad Arnsberg manages the arms will be fun to monitor, and if one of the youngsters emerges as a stud we could be in for a heck of a fun ride.
Hitting:
Here's what I've got for a batting order this year: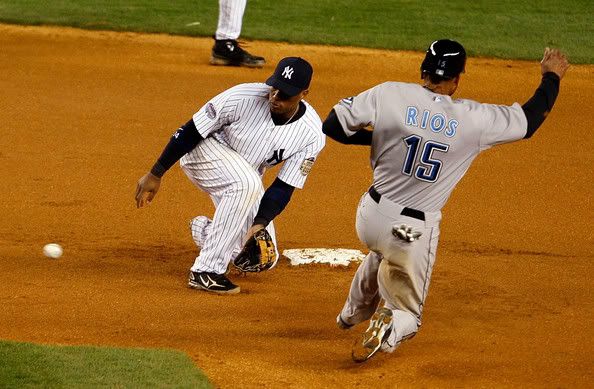 1. Aaron Hill
2. Adam Lind
3. Alex Rios
4. Vernon Wells
5. Scott Rolen
6. Travis Snider
7. Lyle Overbay
8. Rod Barajas
9. Marco Scutaro
The Jays were near the basement in offense last season. Should a few "if's" come through, it will be fairly easy to surpass last year's numbers. The "if's" are the following:
- if Aaron Hill overcomes his concussion to return to 2007 form;
- if Adam Lind continues to improve;
- if Scott Rolen stays healthy and re-emerges as a slugging 3rd baseman;
- if Travis Snider is as good as advertised;
- if Lyle Overbay can start hitting doubles again;
If none of these happen, we have the 2008 Jays offense; nothing lost, nothing gained. If however some of these "if's" pull through, we've got something to cheer about it. It means the Jays can score more than one or two runs in support of Halladay. It means the young pitching staff can pitch with a lead on occasion. It means Wells and Rios can start taking more risks on the basepaths.
It means; a better offensive ball club than last year.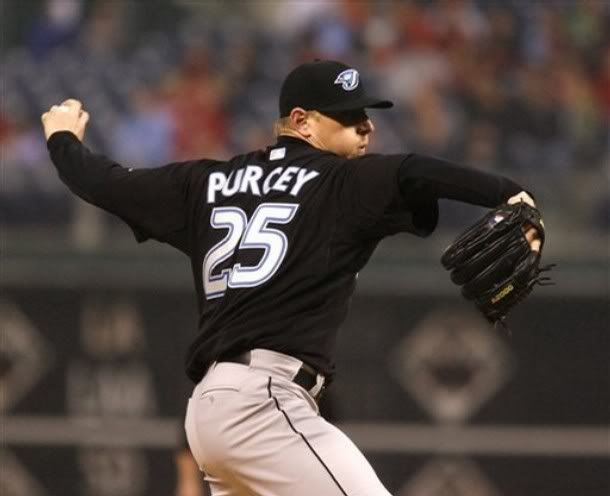 My advice to Jays fans watching their team this year is this; enjoy watching these young kids develop. It's going to be a hell of treat to watch Purcey, Lind, Snider and Romero come of age. Sprinkle a little greatness with Halladay, Wells and Rios and you've got a compelling product to follow. Some days will be frustrating, as stupid mistakes are inevitable with such a young team. But whatever you do, don't get down on these guys. Cito Gaston and Gene Tenace are going to work this bunch into a hitting powerhouse, and by the end of the season we'll have no trouble imagining a pennant in 2010.
My prediction for 2009? 84 wins and 3rd place in the division. That's right, only two wins less than last year. That's how much I think we've improved on offense, and I don't think we're as terrible on the mound as some are saying. The Yankees are nowhere near as good as advertised, and will miss the playoffs; they're the team the Blue Jays will beat for 3rd place.
Can't wait until Monday.