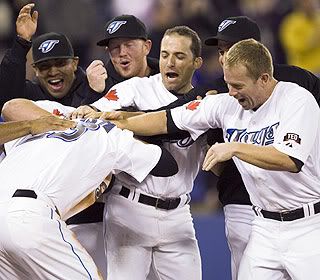 I'm a sucker for pitching duels. Pitching is my favourite aspect of baseball, and I love it when both pitchers are dialed in and making life miserable for opposing hitters. Clearly, I want the Jays offence to perform well and build up some solid numbers, but I'll take a game like last night every day of the week. Detroit's Edwin Jackson was the better of the two, pitching into the eighth inning while allowing a solitary run on two hits. David Purcey wasn't much worse, allowing two earned runs on five hits against a lineup stacked with all but one right-handed hitter.
Obviously the come from behind win by the Jays (woohoo!) is going to steal all the headlines, but the story last night was pitching, both good and bad. Great starting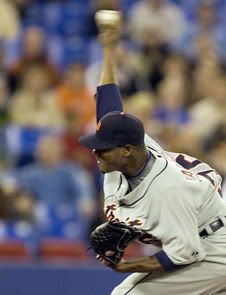 pitching gave way to mediocre relief, and it became a fight to see who would give up the last run. Shawn Camp relieved Purcey and got three outs (although it got dicey there for a bit with the bases loaded). Brandon Lyon replaced Jackson and allowed the Jays to come back and take the lead. Not to be outdone, B.J. Ryan pitched the top of the ninth and gave up a solo home run to Brandon Inge, blowing his first save opportunity (uh-oh).
The Jays showed some resilience (or was that Brandon Lyon showing incompetence?), and loaded the bases with one out for Rod Barajas, who drove in the winning run on a sac fly. Victory to the Jays, 2-0 for the first time in four years. Although Purcey did pitch well, there was cause for concern in that he didn't throw his change-up all night, relying solely on his heater and slider. Whatever works, I guess, but having two pitches won't cut it for 30 starts.
One thing that did bother me was Jerry Layne's strike zone. The only thing you ask from an umpire is consistency, and that is especially crucial for the home plate official. What we saw last night was consistent, but in the sense that Jackson kept getting a bunch of calls that were not given to Purcey, especially the low-inside pitch against righties. Jackson was getting that called a strike all night, but no luck for Purcey. Purcey was essentially working with a smaller strike zone. That kind of thing drives me nuts. Oh well, Jays win in the end.
Tonight Jesse Litsch takes the mound against Zach Miner. Is 3-0 too much to ask?
Viewing Note: Rogers Sportsnet followed up their dismal opening night broadcast by relegating Jays fans to watching the Tigers local feed on Sportsnet Pacific. You have to start wondering if Rogers is so worried about it's on-field product that they're burying coverage in the 400 stratosphere of channels. Fox Sports Detroit was actually pretty decent. The announcers weren't total homers and I actually learned a few things. Tonight, the game will actually be available on Sportsnet HD; about freaking time!