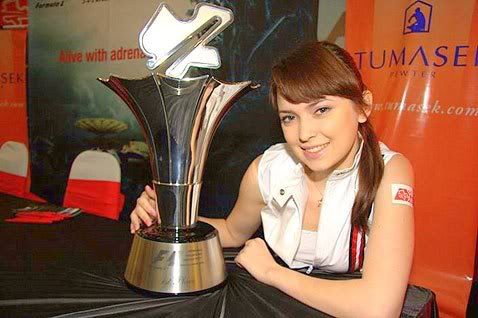 NASCAR fans who read this column will be forgiven for feeling smug this morning as I write of an F1 race that had to be stopped because of rain; only a month ago I took a shot at NASCAR for ending their crown jewel race due to a rainshower. What goes around...
The Malaysian GP was stopped with 32 of 56 scheduled laps to go. What made this particular red flag situation unacceptable is that F1's brain trust had decided to push the start time of the race an hour later to better accommodate European television viewership. This was done despite the objections of local officials, who argued that at this time of year, at that time of day, Kuala Lumpur almost always receives a torrential downpour. I guess we notch this up as another feather in Bernie Ecclestone's cap.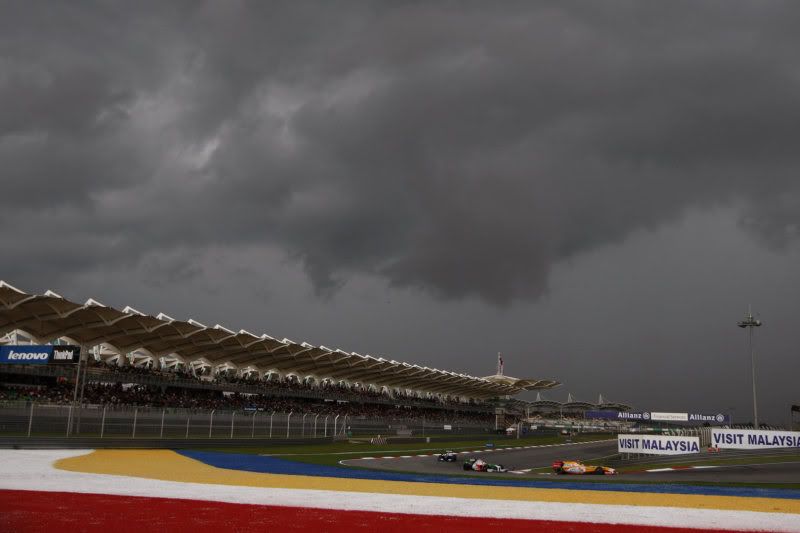 What we were left with was another win for Jenson Button, followed by Nick Heidfeld of BMW and Timo Glock of Toyota. If you don't follow F1 closely, those are not household names. Ferrari once again was left pointless, and Lewis Hamilton of McLaren finished 7th (I wonder what rule FIA will invoke to strip of his points
this
week?). Because the race was stopped with less than 3/4 of the race finished, only half the usual points were awarded.
The saddest part of the whole situation is we had a great race going. There was a number of exciting battles on the circuit, notably a fight between Lewis Hamilton and Mark Weber that saw them switch position four or five times within a few laps. The threat of rain was making some teams lose their minds, as when Ferrari sent Kimi Raikonnen out on the track on "extreme wet" tires, even though not a drop had yet fallen. Three laps later, when the rain finally started coming down, the tires were shredded and he had to pit again. Good times.
Two races down in the calendar, and trends are starting to develop:
-
Brawn GP is for real
. Button qualified on the pole again, and Barrichello was fourth. Two straight wins for the team means they are the ones to beat until other teams find a way to improve their front wing, which is generally being credited for their quick start.
-
Ferrari are hurting
. Yes, I know they generally get out to a slow start, but this is different. They look terrible out there. If things don't shape up soon, I predict heads are gonna roll.
-
Williams-Toyota are fast (in practice)
. It looks like the car is quick, and Niko Rosberg is putting down some really fast times in practice and qualifying, but they don't see to have the car where it needs to be to compete for the Championship. Don't be surprised if they pull off a couple of wins, though.
-
Lewis Hamilton is one of the best drivers in the world
. That much is becoming clear this season. Sure he won a Championship last season, but this year he doesn't have a car. Kovalainen isn't even in the same galaxy when you look at what each driver is getting out of that "bagnole".
The next stop is the Chinese GP on the weekend of April 17-19. Judging by the first two races, you don't wat to miss it.