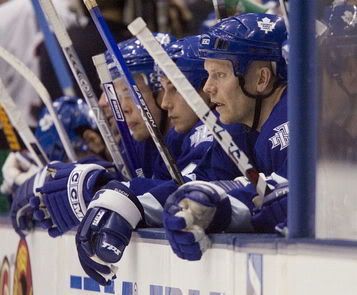 As if reacting to the media criticism before the game last night, the Leafs and Sens provided us with the sparks and fireworks that had been deemed missing in their first two meetings. If you're looking for a game to spiral out of control you need one of the teams to embarrass its opposition, and the Senators happily obliged. Feeling their masculinity and hockey skill questioned, the Leafs responded by resorting to the kind of
goonery
that will surely raise the temperature going into tomorrow night's return engagement.
The Sens will no doubt have an answer to Darcy Tucker's gutless display, when he challenged Patrick Eaves to a fight after having been knocked solidly (and legally) to the ice by the aforementioned Eaves. To Eaves' credit, he refused to back down and took his licks in his first NHL fight. Only Tucker would react in such a fashion, and he must know that payback is coming (Chris Neil basically guaranteed it in an intermission interview).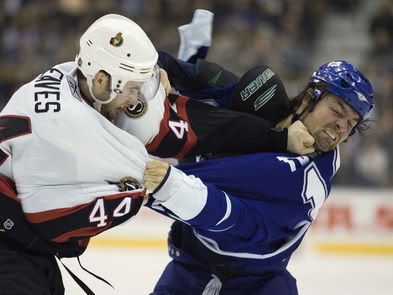 While the media and message boards were saturated with the Tucker incident, the major incident was still to come. As if Tucker's antics weren't enough to get the Battle of Ontario back to its former emotional levels, Chad
Kilger
, in reacting to a trip from
Christof
Schubert, got back up and speared the German
defencemen
in the nether regions. Strangely, I haven't found any print or
internet
media that addresses this sickening act. As soon as I saw it I thought: "There's a two-game suspension". Hopefully the league reacts much the way I did.
All this to say that we needn't worry for too long when this rivalry appears to go through a lull. It's just a matter of time before someone reaches for the kerosene.