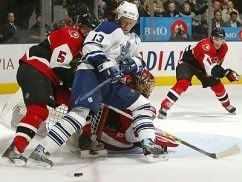 The topic
du jour
amongst hockey columnists in Ontario seems to be the absence of the usual ill will in the Battle of Ontario. Many of the usual suspects have gone; Domi, Roberts, Havlat, Quinn, Hossa. Daniel Alfredsson and Darcy Tucker seem to be the only holdovers from the "good old days". Perhaps that explains why so many people are playing up the Alfredsson vs. Sundin debates: there just doesn't seem to be much more to talk about.
I'd argue that there is a certain excitement to such a lull in the ebb and flow of the rivalry. Because of its geographical reality, there will always be a rivalry between the Leafs and Senators (such a rivalry that I felt guilty right there naming the Leafs before the Senators!). With such a guarantee in hand, we can look in tonight and in subsequent Sens-Leafs games with a sense of wonder at where the next incident might come from. And really, the sweetest part of any type of memorable sports incident comes when you are watching it live, when you become a true witness. I fondly remember when Alfie pretended to throw his broken stick into the crowd, clearly baiting his friend/nemesis Sundin. Or when Tucker found himself checked into the Ottawa bench and tried to fight the whole team. No true sports fan wants to walk into the office in the morning and hear "Dude, did you see that last night?" and have no idea what happened. If Patrick Eaves takes a run at Andrew Raycroft that incites an on-ice brawl, you want to be a part of it. If Kyle Wellwood throws his broken stick Dany Heatley, drawing blood and a suspension, you want to feel the moment.
It's important to remember that when these two teams meet, we are never far away from an explosion. The powder keg is nearby, and the tiniest of incidents could light the fuse, so tune in.