I'm talking myself into believing the Dolphins are going to beat the Packers tomorrow. I'm even thinking of laying money down and giving the Packer 5.5. It's time for a reader intervention, and fast. This is a cry for help.
Alright well since you asked, here's what I'm thinking: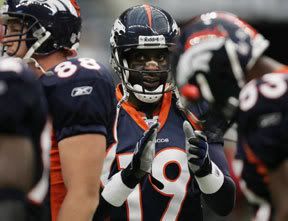 the Packers are scrambling to find receivers. Since Koren Robinson got suspended last week, the Packers have been desperately searching for someone to replace him. After having no success on the free agent market (was Jerry Rice busy?), they promoted some dude off their practice roster.

Ahman Green is still hurt and may not play, while the old standby is a guy even the Houston Texans were eager to offload.

There's only so much you can do with Bubba Franks.
"The Joey", as my buddy and sometimes Lions fan Serge the Psycho calls him, has been pretty decent for Miami in his two starts.

As hard as I've been on my team, they've run into some bad luck this season. They're probably better than their 1-5 record indicates (see, this is where the "talking myself into it" part factors in).