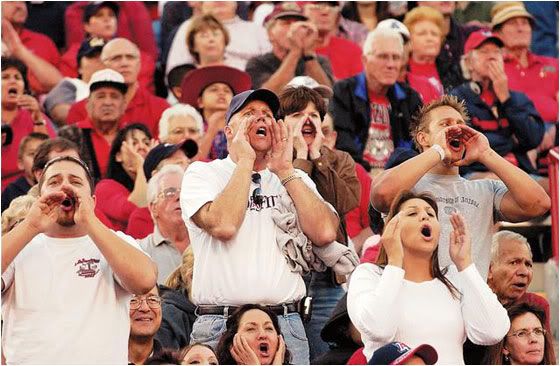 I'm a little late to the party here, but I'd like to use my corner of the intrawebs to lend my voice to the rising chorus of people who think national anthems should
not
be played before professional sporting events. I've been saying this amongst friends and family for years now, but only recently have I heard my sentiments echoed by
prominent figures
. Imagine my shock when uber-nationalist
Don Cherry
was one of them.
The issue recently saw a spike in attention after
some
Montreal Canadiens fans booed the American national anthem before a playoff game. This happens every couple of years. I wouldn't go so far as to boo their anthem, but I do sympathize to an extent. After the Iraq war began, my form of protest was to not remove my hat during the singing of the Star-Spangled Banner. Nonetheless, I don't really get why you would boo an anthem at a pro sports game: there are so many nationalities represented on both teams that it completely obfuscates any objective (which is presumably to piss off the opposing team?).
The issue isn't really the booing of the anthem but rather why the anthem is played in the first place. I'm told the playing of national anthems before professional sports games began after World War II to honour the men who had fought in that conflict. The thought behind this tradition is nice, but the execution is all messed up. We have Remembrance Day to honour our military heroes. On top of that, I doubt many people are thinking of military personnel when they rise for the anthem at a sporting event. Unscientific-off-the-top-of-my-head-thoughts-that-cross people's-minds-during-the-anthems:
1. That girl can't sing worth crap.
2. Is it disrespectful to take a swig of my beer during th - (gulp!).
3. The players look just as bored as me right now.
4. Dude next to me has got to stop brushing up against my arm.
5. ...stand on guard, for thee!!
The meaning behind the gesture has long since passed us by. Besides, we need less military cross-branding with sporting events, not more. We've seen a definite uptick in military tributes at sporting events in the past few years. In my opinion it's nothing more than an infiltration into our pastimes by warhawks and right-wing conservatives. Protest of any kind at these initiatives are met with accusations of unpatriotic sentiment or worse: pansification. Just take Carlos Delgado as an example: he was villified by the New York media for refusing to
acknowledge
God Bless America during Yankees games.
National anthems do have a place in sport. When matches are played between countries, it is more than appropriate to play the anthems. In fact, it adds to the spirit of the event. These renditions would take on even more significance if we weren't so bombarded by the anthems before every single game we watch. Canada playing the USA in hockey? Hell yes play the anthems! The songs resonate with fans, players, and coaches alike because we are pitting countries against one another. Montreal and Boston facing off has nothing to do with Oh Canada or the Star-Spangled banner, so get rid of them altogether. Anything else is just inviting trouble.
The pre-game anthem ceremonies at the FIFA World Cup are always so beautiful to watch, and are enhanced by the fact that God Save the Queen or La Marseillaise isn't played before every Premiership or French League match. When you line up the England team next to the French team and play those anthems it's difficult to feel indifferent, even if you have no ancestors from those countries (same goes for Brazil, Italy, Japan, etc.).
With all this said, however, I doubt any of the professional sports leagues in North America will have the courage to mandate a change in pre-game ceremonies. Those that would be opposed to the change would howl long and hard about the lack of patriotism such a gesture would symbolize (again, why is Don Cherry on my side on this???). I seem to recall George Steinbrenner publicly voicing his disgust with Blue Jays President Paul Godfrey for not playing God Bless America at Blue Jays home games during the seventh-inning stretch. Can you imagine the reaction from the faux-patriots if Gary Bettman instructed teams to drop the anthems before games?
The status quo will continue, but you have my go-ahead to keep your hat on while the "bombs burst in air".