After a long, sleepy winter devoid of any racing that fills my needs (sorry NASCAR), automotive excellence returns to my radar tomorrow with the 12 Hours of Sebring. As I
wrote
earlier, this is the kickoff event to the 2009 American LeMans Series. ALMS is a relative newcomer to the North American sports scene, its inaugural season coming in 1999.
Most people are familiar with the 24 Hours of LeMans, if only because of passing mentions in the media and Steve McQueen's classic movie "
Le Mans
". The European and American LeMans series are loosely affiliated in that the car classes have similar specs and that the winners of each class at the Petit LeMans, a 10-hour race in Atlanta in October, qualify for the 24-hour race in LeMans, France the following July.
The American series had been on a steady rise since its inaugural season, but some teams have pulled out this season, and the recession is probably to blame. Of note, Penske Racing and Andretti-Green racing, two giants of the racing world, will not be taking part this year. That is somewhat offset by the addition of Rahal-Letterman racing's two-car BMW entry in the GT2 class. There's no denying, though, that losing those two legends stings.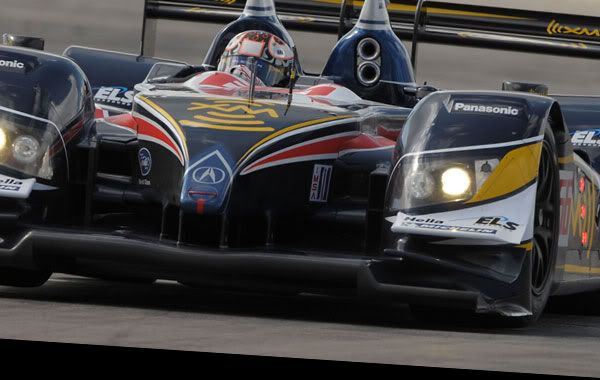 Another recent addition to the circuit, Gil de Ferran's Acura racing team (pic on the right) has claimed the overall pole position with his prototype entry (P1 is the top class in ALMS, followed by P2 and the two GT classes). It is shocking for him to beat the Audi and Peugeot's to the pole, but doesn't necessarily reflect who has the best car on the track. In a 12-hour race, having the fastest lap isn't enough - you have to be fast AND reliable.
My attention is usually focused on the GT classes. GT1 is kind of a wash - it consists exclusively of
C6 Corvettes
. No drama there. In GT2, however, there are 15 teams driving 8 different types of street cars: five
Porsche 911's
, three
Ferrari 430's
, the two aforementioned
BMW E92 M3's
, a
Dodge Viper
, a
Panoz Esperante
, a
Ford GT MK7
, an
Aston Martin Vantage
and a GT2-tuned Corvette C6. I don't really have a favourite, but I really want the BMW's to do well. In the prototype class, my French roots have my heartstrings being tugged by
Peugeot
.
We've made a mini-event of this in my home, with my in-laws coming over to watch it with me. A few firsts of note here; it will be the first time my in-laws spend a large chunk of time in our home, and it will be the first time my father-in-law watches this series (he prefers cars that go in
circles
and
straight lines
). So yeah, I'm a little nervous. Hopefully it's a good race. I think he'll really appreciate the strategy that goes into putting a car on track for 12 straight hours and everything that entails.
Speed
usually does a decent job of following the story lines and focusing on the racing. If the racing turns out to be a snoozer, I'll distract him with
food
. Hey, it works on me every time!
But seriously, if you find yourself twiddling your thumbs sometime tomorrow afternoon all the way to 10pm, tune in for a couple of minutes to check it out. ALMS might make a fan out of you.