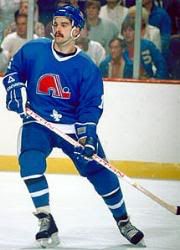 A few years ago I
wrote
about the possibility of the Québec Nordiques coming back to the NHL. It eventually turned out that the rumours were but another tease for fans of the long-maligned franchise.
What's old is
news again
(French): former players Michel Goulet and Kevin Lowe are getting behind an effort to build an NHL-ready arena in Québec. So far the initiative looks a little shaky; there is no franchise available, expansion is a non-starter in this economy (aside: I've quickly grown tired of the expression "in this economy"), and NHL ticket prices are way out of reach for the old Nordiques fanbase.
So far it simply has the appearance of a couple of ex-NHLer's going out on a limb for an old buddy. I would be shocked if anything came of this particular effort. Besides, building an NHL-ready rink hasn't exactly made the Jets
rush back
to Winnipeg.