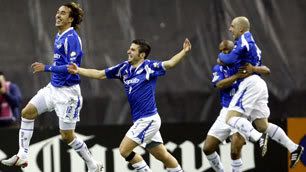 Last week I undertook a daring mid-week there and back again adventure to Montréal, in order to take in a historic moment in Canadian soccer history. The Impact were playing the first leg of a home-and-home quarterfinal match against
Santos Laguna
, the champions of last season's Mexican domestic league.
History was being made on the pitch, as Montréal was representing Canada's first entry in the
CONCACAF Champions League
, and doing so with aplomb. After securing the right to represent Canada by winning the
Voyageurs Cup
(a mini-tournament that took place over the length of the summer with Canada's other two notable professional teams, Vancouver Whitecaps and Toronto FC), they bowled over most of their opposition originating from clubs in Mexico, Guatemala and Trinidad & Tobago to reach the present quarterfinal stage.
History was also being made off the pitch with Olympic Stadium being reincarnated as a soccer mecca, attracting 55,571 of my closest friends. That ranked as the third highest attendance for a soccer match in the country, all-time.
Having arrived near the stadium in plenty of time before kickoff, we were nonetheless delayed from entering the venue due to a catastrophic lack of planning by organizers. It was no secret that the house was going to be rocking with a 50,000+ crowd, but organizers did nothing to facilitate the flow of humanity trying to get into the stadium. No police directing traffic at major intersections, no parking attendants to direct us to the nearest available parking. The end result is that we stood still in traffic for an hour, missing 30 minutes of the first half and the first goal 5 minutes in, and that only because our lovely companions urged us to hand over parking duties to them so we could go ahead. Our eternal thanks, ladies.
Despite the inconvenience and frustration of the arrival, all those feelings melted away as we found our section (and removing some fairly large Mexican supporters who were squatting in our seats - good thing my buddy Karl is so intimidating!). Being part of such a large crowd, a SOCCER crowd no less, tends to make you forget your worries other than the peaks and valleys of the action unfolding before you.
The match was already 1-0 to the Impact when we arrived, and within a few moments we could tell that the Impact had a fantastic game plan and were executing it to perfection. The skill level of the opposing team was superior, but Montréal's defend-and-counter strategy was too much for Santos Laguna to overcome. It almost seemed like the Mexican champions thought that by simply showing up the match was already won.
Adding a second half goal to make it 2-0, as well as having a keeper in Matt Jordan that dominated his area, was all the Impact needed to seal the first leg victory. The atmosphere was typical of a Montreal crowd: enthusiastic, passionate and in love with the big moment.
The return match is tonight in Torreon, Mexico in front of a hostile crowd and you can watch it at 10pm on CBC Bold or stream it at
CBC.ca
. Montréal will advance if the following happens:
Impact wins
Impact ties
Impact loses by 1
Impact loses by 2 but scores a goal
They've got one foot in the door already. Is it too early to dream of March 18th sold out semi-final match at the Big "O"?