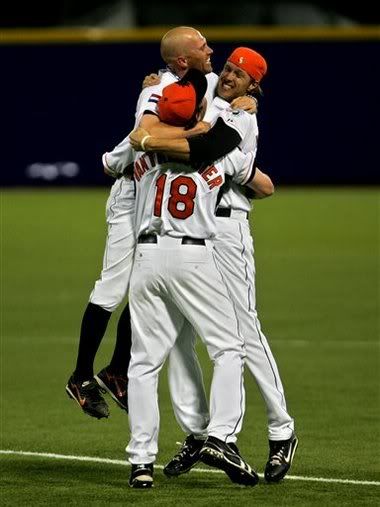 Head? Consider yourself turned. Eyebrow? Inquisitively raised .
The Dutch have
done it again
. In an 11-inning thriller the Dutch National Baseball team upset the mighty Dominican Republic at the World Baseball Classic.
Despite Colorado Rockies pitcher Jubaldo Jimenez striking out 10 Dutch hitters in 4 innings (WOW!), the Nederlanders were also able to keep anyone from scoring until the top of of the 11th when Jose Reyes scored on an outfield error.
The game appeared to be lost for the plucky Dutchmen, but they managed to tie the game and score the game-winner, also on an fielding error.
So far this has been a tournament of upsets; the Dutch beating the DR twice, Australia thumping Mexico, Korea sinking Japan and Canada losing to Italy. Can the Cinderella stories continue?
No reason to think it won't. Go Oranje!