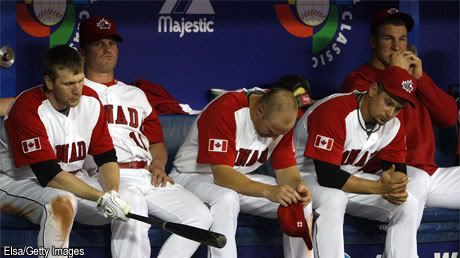 Someone will have to explain to me someday why I have a knack for picking losers in sporting events. I don't mean the throwaway selections one makes when your team is eliminated, like how I supported the Steelers in this year's Super Bowl, but rather those teams in which I invest emotionally. In my lifetime, I've been on the winning side of 5 Champions: 1986 Canadiens, 1992 and 1993 Blue Jays, 1993 Canadiens and France in the 1998 World Cup. The total goes up a bit if you include Donovan Bailey and also the 2002 Salt Lake City Men's hockey team (but really, cheering for Canada at a hockey tournament is a little redundant).
Granted, cheering for your country is not really an option (although let me assure you that my colleagues of Italian-descent don't make any bones about turning their back on the country in which they were born and raised in favour of the romanticized country they hear tales about from their grandparents). When Canada enters a tournament like the World Baseball Classic or World Cup Qualifying, I certainly have no other option of who to cheer for. It is ingrained in my DNA. The problem is the sports I care most about happen to be one we didn't invent. I think it's great that Canada dominates in hockey and curling in international tournaments but like I alluded to earlier, it doesn't give me any deep satisfaction.
Canada did it again to me last night. They did it to me 3 years ago as well when they barely beat South Africa and got thumped by Mexico, so much so that the "runs against" rule is what bounced them from the tourney (they were tied with the USA and Mexico with a 2-1 round robin record). This one stings a little more. Having played an excellent game against the USA before falling to them 6-5, everyone was feeling good about our chances to face Venezuela tonight. Problem was that too many people looked beyond Italy, including manager Ernie Whitt who chose to go with an unknown and untested starter instead of the "ace" of the staff Scott Richmond.
The logic was solid, and really I can't argue with it except in hindsight. Our hitting would power us over the Italians even if the pitching allowed a few runs here and there. Honestly, I would have made the same call, preserving Richmond against a powerhouse Venezuela team. And so on this night Canada was pinning its hopes on Vince Perkins, some dude who's bounced around the minors since 2000 and has never gotten beyond "AA" (that being double "A" baseball, not Alcoholics Anonymous, although last night's outing might lead him to the drink). He was full of gusto in pre-game interviews, boasting about how his arm hadn't felt this good since he was 18, and how he hoped to raise some major league eyebrows with his performance.
Well, he never got off the ground and the only facial expressions he inspired likely won't win him a promotion. He got the first batter he faced to hit a squibbler to the foot of the mound, but he bungled the ball and never got a throw off to first. Was that shaking hands I saw from Perkins as he fielded that ball? It might have been, and it jives with the rest of his outing, in which he couldn't find the strike zone and allowed 3 hits and 4 walks in 2+ innings. When he was mercifully pulled in the top of the third, Canada was down 3-0.
Not to take away anything from a plucky Italian team that played out of their minds. They were just as spectacular on defence as when they played Venezuela Saturday only this time they pushed runs across the plate, something Canada could not do, leaving 10 runners on base throughout the game. Time and again Votto, Morneau and Bay would be left on base by hitters who couldn't come close to making meaningful contact.
In the end, Canada's pitching was not sufficient to make any kind of dent in this tournament. They were let down by Ryan Dempster, Erik Bedard and Rich Harden, arguably Canada's best pitchers, who chose to decline an invitation to join the team for no good reason. They were also done in by a hitting lineup that was appallingly weak once you got past 2 through 6. Pete Orr, I'm looking right at you (not to mention Matt Stairs' golf swing).
And here I am left to dissect yet another stumble by a Canadian national team, much like I do whenever Canada's soccer team loses to the likes of Guatemala, Honduras and Nicaragua. As always, we killed them on paper. Perhaps it's time for our teams to enter the digital age.