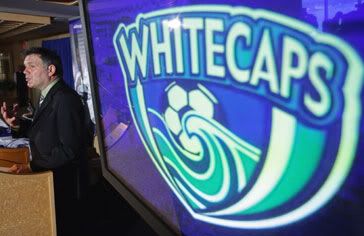 And so the next frontier in Canadian soccer history has been breached:
Vancouver will join MLS
in 2011. They will join
Toronto FC
as the other Canadian entry in what is (in theory) an American soccer league (although with Montréal and Ottawa in the on deck circle, how far can we really be from a true North American league?).
Part of me is thrilled that Canada gets another top level professional soccer club to cheer on, but I can't help but feel that this was Montréal's time to get a franchise. The Impact have already built a soccer-specific stadium and fill it regularly for a team in a lower division than MLS. They recently filled Olympic Stadium with over 55,000 fans for a CONCACAF Champions League match (and would have done it again had the Impact not
choked spectacularly
down in Mexico!). They have strong ownership in the Saputo brand and are deeply involved in the community. Plus let's get real: Canadian or not, Vancouver is 5,000 kilometers away, making it cheaper for me to see a match in Columbus, or New York, or Boston.
It will potentially mean more MLS soccer on television and increased media coverage, and that's always a good thing. It will heighten the rivalry with Toronto FC, and make the Voyageurs Cup more competitive (now the Impact will have to defeat two MLS teams to represent Canada in the Champions League, not just one). It will pave the way to more Canadian teams joining the league. These are the positives. But I can't shake this feeling that Montreal got jobbed.
Montreal seemed well on it's way to be the next MLS team just a short year ago. It made the shortlist of potential expansion cities and all logic pointed to the awarding of a franchise in La Belle Province. So what happened?
The sequence of events is troubling. At first, all the right things on both sides were being said. "Great city, no brainer, foregone conclusion", etc, etc. Then at a press conference, MLS commissioner Don Garber announced that Montreal had withdrawn its expansion bid. This caught everyone by surprise, including Impact owner Joey Saputo, who denied anything of the sort! A few days went by and the right things were being said again: "Next round of expansion, tickets prices were an issue,"etc. The pricing thing made sense, since the Impact have prided themselves on low ticket prices that make the Impact an ideal family outing, and MLS have minimum ticket prices that could be difficult for Impact fans to stomach. That's fine. But was this the real reason, or was the veil being dropped over our eyes?
It's difficult to tell, but remember that George Gillett (pictured, right), owner of the Montreal Canadiens and Liverpool FC, has made it known he'd love an MLS franchise. It's not out of the realm of possibility that Don Garber is much less comfortable with a French-Italo-Canadian-cheese and Jos Louis maker than with a WASP Texas businessman with much deeper pockets that would immediately link his MLS club to the storied Liverpool FC.
If I'm right, and this is what truly happened, it would be quite unfair to the Saputo family. They have nurtured the soccer culture in Montreal from its embryonic stage to the solid franchise it is today. To have the rug swept from under them by a swaggering cowboy would be sad indeed.
But hey, today is day of celebration for Vancouver and its Whitecaps. Canadian soccer is a winner today. Let's keep this momentum going and hope Vancouver can be as wild about their soccer team as Toronto ended up being.