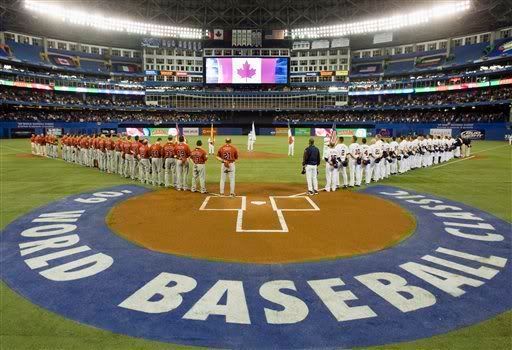 Not many things in life beat getting into a van with three close friends and hitting the road, the destination being a packed sports stadium. This is what The Waffle, Daddio, Moonturk and I set out to do on Saturday starting at 5:45. The World Baseball Classic at Rogers Centre beckoned. We answered the call.
Canada v. USA was tops on the agenda, with the added bonus of Italy v. Venezuela later. We weren't sure how well Canada would fare against the mighty American imperial superpower, but I'd say our hopes were cautiously optimistic. After all, we did
beat them
in the 2006 WBC.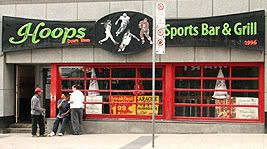 After a four-hour commute that included Laura's cupcakes and Tim Horton's coffee, we checked into our hotel and sat down to lunch at
Hoops
on Yonge Street. We were waited on by the lovely Geneviève from Répentigny, who was thrilled to be serving "son peuple" in downtown Anglo-Saxonia. As we ate some decent pub fare, we watched The Netherlands take an early 3-0 lead against the Dominican Republic. That score couldn't possibly stand up over nine innings,
right
?
We cabbed it to the stadium in time to catch the Canadians taking batting practice. For all the hype about Canada's hitting prowess, we didn't see many BP homeruns. We then settled into our seats, which were four rows up in section 113. A bunch of USA players warmed up in front of the section, allowing us to hone our heckling skills. We got off a few good ones that elicited reactions from the players. To Adam Dunn, who was warming up with Ryan Braun and Jimmy Rollins: "Hey Adam, J.P. was right about you!". His fellow players immediately laughed and started poking fun at him. Here's why I said that:
"Let me ask you something. What do you know about Adam Dunn?" Blue Jays GM J.P. Ricciardi said to the caller. "He's a lifetime .230, .240 hitter that strikes out a ton and hits home runs.

"Do you know that the guy really doesn't like baseball all that much?" Ricciardi continued. "Do you know the guy doesn't have a passion to play the game that much? How much do you know about the player? There's a reason why you're attracted to some players and there's a reason why you're not attracted to some players. I don't think you'd be very happy if we brought Adam Dunn here. ...

"We've done our homework on guys like Adam Dunn and there's a reason why we don't want Adam Dunn. I don't want to get into specifics."
Then, as Derek Jeter was close enough to reach out and touch him,
The Waffle
chimed in with: "Hey Jeter, you miss A-Roid yet?". That brought a grin to the Yankees shortstop. Yes, heckling is childish and impolite - but as long as it doesn't cross the bounds of good taste it can be funny, too.
In fact, Dunn was a good sport. He played right field for USA and the entire section behind him were chanting heckles at him throughout game. A few times he turned around and feigned a yawn. Good stuff. He got the last laugh, as well, as he had the game-winning RBI off a two-run homerun.
Speaking of which - there was a game! And what a game it was, kids. Canada took an early lead by roughing up a shaky Jake Peavy. The teams then traded runs and the Americans took a 6-3 lead. Canada showed a lot of grit to come back and make it an exciting finale. Trailing 6-4, Joey Votto, the best Canadian on the day, hit a double in the top of the ninth with 1 out that brought in a run. With Justin Morneau and Jason Bay coming up, things were looking good. With 42,000 of my closest friends standing and cheering as if in Game 7 of the World Series, J.J. Putz overcame the Canadian momentum to get the last 2 outs he needed for the save. Can't complain, though. We saw a great game and had a great time.
One of the highlights for me was seeing top Mariners prospect and Gatineau native Phillipe Aumont pitch the sixth inning. He gotten himself in trouble early, loading the bases with nobody out. At that point catcher Russell Martin and pitching coach Denis Boucher had a
little chat
with the youngster. Whatever they said worked wonders, as he retired the next three hitters, two of them via the strikeout. In fact, that was an ongoing theme for Canadian pitching staff. They would often get themselves in trouble, only to strike out the final out. It made for great theatre.
We exited the stadium and chased after dinner. More to come in Part Two...