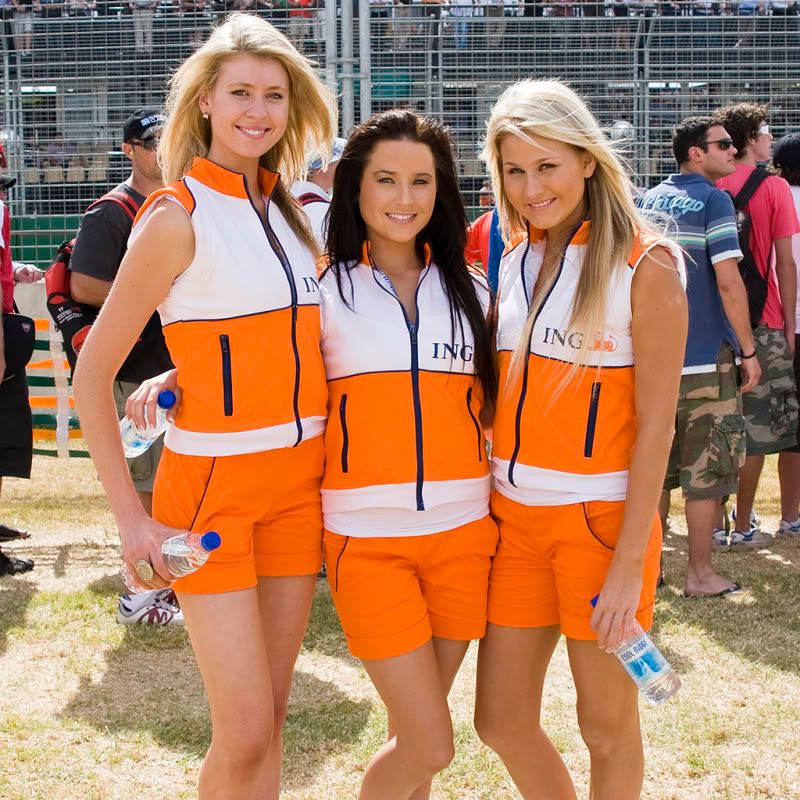 As I settled in yesterday morning to watch the Australian GP, as that beautiful sound of F1 cars buzzing about reached my ears, as the sights being beamed from Melbourne reached my screen, it dawned on me: F1 is not coming to Montreal this year. It just felt so wrong as that reality began the process of settling in. No Montreal F1. No Canadian GP. Heck, no North American race.
An incredibly bittersweet feeling sat in the pit of my stomach as I watched and listened. Excited that F1 was back, devastated as I realized there would be no trip to see Montreal transformed into a big car festival this summer.
But then, as I surfed the net and emerged from my week-long slumber, I found a
ray of hope
. Turns out money can't buy you time, and the track being built in the United Arab Emirates is woefully behind schedule, and rumours were flying in Melbourne that Bernie would have to crawl back to the organizing committee of the Canadian GP to see if they could replace it with a race in November. This hasn't happened yet, but how fantastic would that be? Oh, and I fully support the stance organizers in Montreal are taking, basically saying "If you want back in, you come back for the long haul". That's right. You wanted to pound us with your stick when you had the long end, Bernie? Time for some payback.
As usual, politics off the track were threatening to overshadow the action that actually matters. Other than the Montreal talk, there were also a number of teams lodging protests against Brawn GP, the team that replaced Honda in the field, and their interpretation of the rules governing the front wing of the car. As I
previously
posted, many new rules were being brought into effect this season with the hope of cutting costs and leveling the playing field. Word is, however, that Brawn's offence is more against the "spirit" of the rule than any type of legality, so either the other teams will adapt or the FIA will clarify its rule: no sanctions are forthcoming against Brawn GP.
Whatever they did to that front wing, it worked! Brawn GP, using a Mercedes engine, were 1-2 in qualifying and 1-2 in the race. It was only the third time that a new entry to F1 has won the race. Jenson Button ended up beating Rubens Barrichello at the finish, and Lewis Hamilton in his McLaren Mercedes took third spot despite being denied his spot on the podium as the stewards tried to figure out how Jarno Trulli passed him under caution three laps from the finish. Ferrari were out of the points (sad, I know), and whatever wishes the FIA had for leveling the playing field, they achieved. We'll just have to see how things play out over the course of the season.
One complaint I had is despite all these rule changes promising more competition and more battles on track, the latter did not materialize. Only a few times during the race did we see true battles (and unfortunately the best one was aborted when Robert Kubica foolishly tried to run Sebastian Vettel off the track with three laps to go), and if I'm not mistaken the lead never changed hands. I don't hide my disdain for NASCAR, but they've got us beat in terms of leader changes and wondering who will come out on top.
But this day belonged to Ross Brawn, the architect of this new F1 team. He was the genius who teamed up with Michael Schumacher at Benetton and Ferrari, and moved to Honda once Schumi retired. Forced to build a team within a few months after Honda pulled out, he has assembled a winner. Such last minute was this endeavour that they only announced their title sponsor shortly before qualifying on Saturday. Richard Branson is getting into the F1 game by making Virgin the eye candy on these un-sexy cars (pictured, right). Call me brainwashed, but there's just something odd about seeing a race car that isn't plastered with sponsor liveries . Something tells me that after this weekend, sponsorship money will come rolling in. Such is the life of winners.