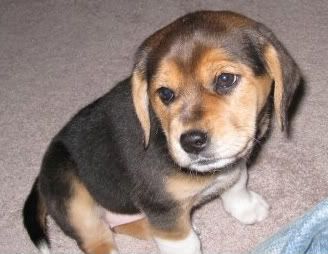 I had to curb my sports viewing over the past couple of days as our family welcomed its newest furry member, a puppy named Maya. It's my first puppy and as much as people warn you of the work that goes into training a dog, it is still overwhelming. Less sleep, less down time, always having to be alert as to what she's up to - it's very draining and doesn't allow for much sports viewing (but don't get me wrong - oh so worth it!).
Thankfully the early days of dog-rearing are out of the way and a semblance of my pre-Maya days can return. I'm happy to note that it doesn't appear that I've missed much over the past few days. March Madness began last night and I couldn't care less. The World Baseball Classic is falling flat to my great dismay. Sens are out of the playoff race. All in all, there's a lot of looking ahead going on, and not much living in the now.
One event beeping frantically on my radar is the
12 Hours of Sebring
endurance race this coming Saturday. I became a fan of this automotive racing series, the American LeMans Series, three years ago when I watched Sebring for the first time. It turned out to be the most amazing race I've ever watched. Twelve hours of racing came down to a final lap showdown between a Porsche and Ferrari. Check it out below:
What I love about the ALMS is that there are 4 classes of cars on the track at once: two prototype classes and two GT classes, so there's a lot of traffic all the time. You really get to see top class drivers (there are former F1 and IndyCar drivers) having to negotiate a track that always has surprises up its sleeve. Not only that, but here's a world-class racing event that actually comes to Canada (
fuck you Bernie!
), gracing us with their presence at
Mosport
in August.
I won't bog you down with
details
, but if you like car racing check it out this Saturday from 10am on
Speed
(to watch the race from the point where there are no interruptions for NASCAR qualifying, tune in from 2pm to 10pm). I'll post my views on this year's edition of Sebring on Monday, and will continue to comment on it throughout the
season
. Of particular interest is the return of BMW to the series, and Audi returning but without a factory car.
One last note about Sebring: I'll be watching the race with my father-in-law, a die-hard NASCAR fan. This should be an interesting experiment. I hope it rains in Florida on Saturday so he can see what real drivers do when it starts raining (
Mouah hahaha!
). I kid, I kid. Wish me luck!