Our stomachs rumbling, leaving the stadium in search of sustenance was our first order of business following the game. Clearing out 42,000 fans is no quick endeavor however, and it took a good 15 minutes from the time we left our seats to making it outside, where a light rain was complicating the exodus. We had a couple of yahoos behind us yelling for people to move faster, which grated on our nerves. The Waffle should have arranged for a police escort for us, but in this he fell way short of expectations (during the game Daddio suggested he grab the cute cop's hat and run around the field with it, but not enough drinks had been consumed - we might have gotten out of the stadium faster had he listened to that advice!).
We knew and accepted that getting a table at a restaurant close to Rogers Centre might be difficult; there were 42,000 of us from baseball and the Leafs were playing next door on Hockey Night in Canada. That's a lot of people looking for food. We had 3 hours to spare until the Italy v. Venezuela game, so we weren't too worried. Nothing prepared us for the level incompetence we were about to encounter, mind you.
We poked our noses into a couple prospective restaurants but were met with massive lineups, so we decided to move along each time. Finally we spotted Philthy McNasty's and the lineup didn't look to bad. Upon inquiring at the door, we were told that a 10 minute wait for a table was expected. This seemed reasonable to us and, in fact, were seated within five. Awesome. Perusing the menu, discussing our drink choices, turning on the television at our table, this distracted us for a bit. No waitress came during this time. Upon further observation, we saw that there were about 3 waitresses working for about 200 patrons. We also saw that people at other tables looked pretty pissed off repeatedly trying to attract their server's attention, only to be being waved off every time. It's about at this point that Moonturk said: "If the decision is to leave here and go elsewhere, I'll support it 100%". I checked my watch and we still had 2 1/2 hours left to game time. "Other than being hungry, we're in no rush and besides, we'll have to wait elsewhere anyway". We all agreed to wait it out.
Another 10 minutes went by before I caught the hostess and asked her over. "Nobody's been to see you yet, huh? Well, I'll try and see if someone can serve you." Ahem..."Try?" Yikes. We then noticed people going to the bar to get their own drinks and pitchers, because the waitresses were too overwhelmed. After another 10 minutes (by this time we had spent at least half an hour in the place), the hostess was able to grab the "manager" to come serve us. A stern, "no-bullshit" look was accompanied with "What do you guys want?", pencil to paper. The Waffle, in an attempt to change the tone, attempted a friendly "Busy night, huh?". No eye contact in the response "It's getting there. Listen, you guys should know that it'll be an hour for food." Thanks, but we were out of there. Farewell to "Philthy McNasty's: Our name describes our commitment to service".
Here's a question for the manager of the establishment: How is it that a restaurant, located in the tourist district of Toronto, within shouting distance of both the Rogers Centre and Air Canada Centre, on a night with two baseball and one hockey games is not prepared for a crowd? You would think that a place like that, on a night like this, would staff itself properly. But hey, I'm no MBA.
We ended up eating at Dunn's next door, who provided us with excellent food (Daddio said it was the best steak sandwich he'd ever eaten and my smoked meat sandwich was just a notch below Nate's Deli), excellent service and a much better atmosphere. They got us out of there in time to make the second game with time to spare. A tip of the hat to a fine establishment.
As soon as we entered the concourse to the stadium, we heard it: fans singing in unison. Oh yeah. Venezuela in the house and bringing a soccer atmosphere. Too bad there were only a few thousand of them, but it was a testament to how a few well-organized and dedicated fans can make a stadium sound full. Many jokes were being made pre-game about Italy's baseball prowess. Perusing the starting lineup did nothing to stem the flow of these jokes, since only Nick Punto, Frank Catalonotto, Mark Defelice and Jason Grilli had any kind of pedigree.
Turns out the Italians had a little sumthin' sumthin' in the tank after all. Our first wow moment came in the bottom of the first when Bobby Abreu lined a ball to the right/centre gap. What looked to be a sure hit was snagged by an
incredible diving catch
by "Super" Mario Chiarini. It would appear diving is an Italian specialty (sorry DeRosa, I couldn't resist:
Italian Soccer Diving
All kidding aside, the Italians were fairly impressive against a team loaded with MLB superstars, spreading a good bunch of hard hit balls into green spaces.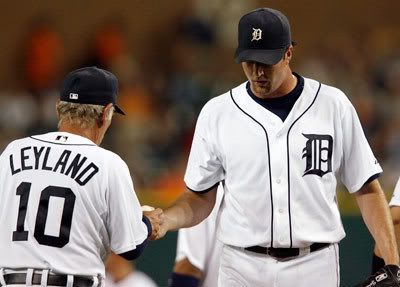 They got to the 5th inning still scoreless until Italy made a strange decision in changing pitchers (the starter, Mark DeFelice was nowhere near the tournament-imposed 70 pitch limit). The skipper went to Jason Grilli who promptly gave up 3 runs while recording only one out, to the endless enjoyment of the Detroit Tigers fan behind us who was thrilled that the pitcher who was formerly on his team was now ruining another ball club).
The Venezuelans ran away for the rest of the game, eventually winning 7-0 in what turned out to be something of a boring game. I guess we started losing interest when the blowout began to materialize, but keep in mind we were somewhere near our 6th hour of baseball for the day. A few more drinks and a few more wings at a pub across from our hotel sealed the night, and we retired to our beds. At least that's the story we're sticking with.
The trip back was mainly uneventful save for the texting maniac on the 401 who almost ran herself into a barrier before realizing that driving might be a better option as her first priority. We also fooled Daddio's better half into believing we had taken a detour through Watertown, N.Y., when in fact he was only 15 minutes away from arriving home. She was very diplomatic, but I suspect it's only because she knew we were all listening to her through the OnStar system in Daddio's van. Still waiting to find out how that story concluded when he got home.
It was a very fun trip spent with close friends, with a good mix of baseball and decent food thrown into the pot. Can't wait for our next road trip.